In 2023 where information is shared at the simple as a click and shorten, link management tools have become an essential part of the online experience. These tools allow users to shorten, customize, and track their links, ensuring that their online presence is both impactful and manageable.
Whether you're a seasoned marketer seeking advanced analytics or a novice user looking for simple link shortening, there's a link management tool that perfectly aligns with your requirements.
In this comprehensive guide, we will delve into the top 8 best link management tools that are set to redefine the way we interact with URLs. From the household names like Bitly and Rebrandly to the rising stars such as TLinky and TinyURL, we'll explore their features, reviews, pricing models, and the pros and cons that make each tool unique.
What is Link Management?
Link management refers to the practice of systematically organizing, optimizing, and monitoring web links or URLs. It involves tasks such as shortening lengthy URLs, customizing links for branding, and tracking link performance. Effective link management aims to improve user experience, enhance marketing efforts, and gain insights into how links are used by audiences.
What is a Link Management Tools Software?
Link Management Tools Software is a category of software solutions designed to streamline the process of managing web links. These tools offer features like URL shortening, link customization, analytics, and link tracking.
They are invaluable for businesses and individuals looking to efficiently manage their online content and marketing campaigns by simplifying the management and analysis of web links.
Ready to Take Your Marketing to the Next Level?
Supercharge your marketing campaigns and drive more clicks and conversions with TLinky's URL shortener, QR code generator, Bio page builder and link management tools. Start optimizing today!
Benefits of Link Management Software
Link Management Software provides several advantages, including:
Efficient Link Shortening: These tools shorten long URLs, making them more user-friendly and visually appealing.
Customization: Users can customize links to match their branding, improving recognition and trust.
Link Tracking: Users can track link engagement, helping them understand audience behavior and campaign effectiveness.
Enhanced Productivity: Link management tools streamline processes, saving time and effort.
Improved Marketing: By analyzing link performance, businesses can refine marketing strategies for better results.
Important Information of Better link management Organization
Link management tools help organize and categorize links, making it easier to manage your links and share content across multiple platforms.
User Reviews: Platforms like G2, Capterra, GetApp, and SoftwareAdvice provide user reviews and ratings for link management tools, helping users choose the most suitable solution based on real-world experiences.
Market Share of Top Link Management Tools & Technologies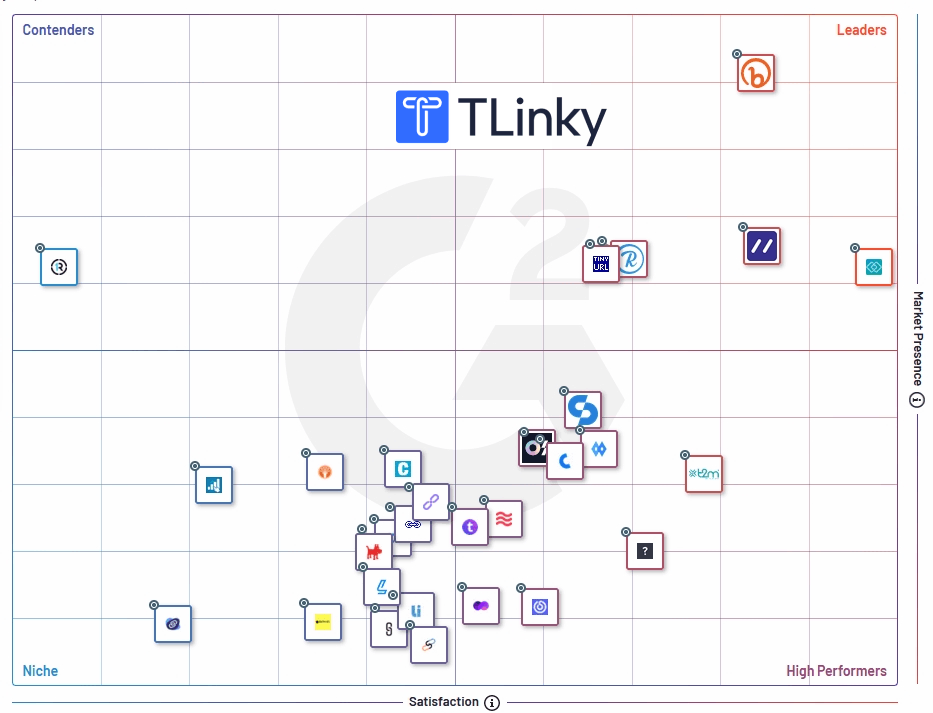 Compare Pricing Plans of Top Link Management Tools Providers
Product Name
Starting Price
TLinky
Free Plan – Always Free
Starter Plan – $9/ month and $90/year
Advanced Plan – $29/ month and $290/year
Business Plan – $89/ month and $699/year
Bitly
Core Plan – $8/Month (Need to pay annually $96)
Growth Plan – $29/Month and $348/Yearly
Premium Plan – $300/Month and $2388/Yearly
Rebrandly
Starter Plan – $29/month
Pro Plan – $69/month
Premium Plan – $499/month
Cuttly
$25.00 / month – Up to 5 users
$99.00 / month – Up to 10 users
$149.00 / month – Up to 99 users
TinyURL
Free Available
Pro Plan – $9.99/Month
Bulk Plan – $99/Month
LinkTree
Free Available
Starter – $5/month
Pro – $9/month
Premium – $24/month
JotUrl
Growth: €9/month or €7/month (annual billing)
Pro: €69/month or €55/month (annual billing)
Business: €169/month or €135/month (annual billing)
Growth XL: €29/month or €23/month (annual billing)
BL.INK
Expert – $48/mo
SMB – $99/mo
Team – $299/mo
Business – $599/mo
Compare Pricing Plans
List of the Best Link Management Tools of 2023
Here's the list of best link management tools in our list, including features, pricing, customer reviews, customer rating, pros and cons of each tool.
TLinky – Link Management Platform
TLinky is your all-in-one solution to streamline and enhance your marketing efforts. As one of the top link management tools in the industry, TLinky empowers you to conquer the digital landscape with ease.
Whether you're a seasoned marketer or just starting, TLinky offers a comprehensive set of features to boost your link management game.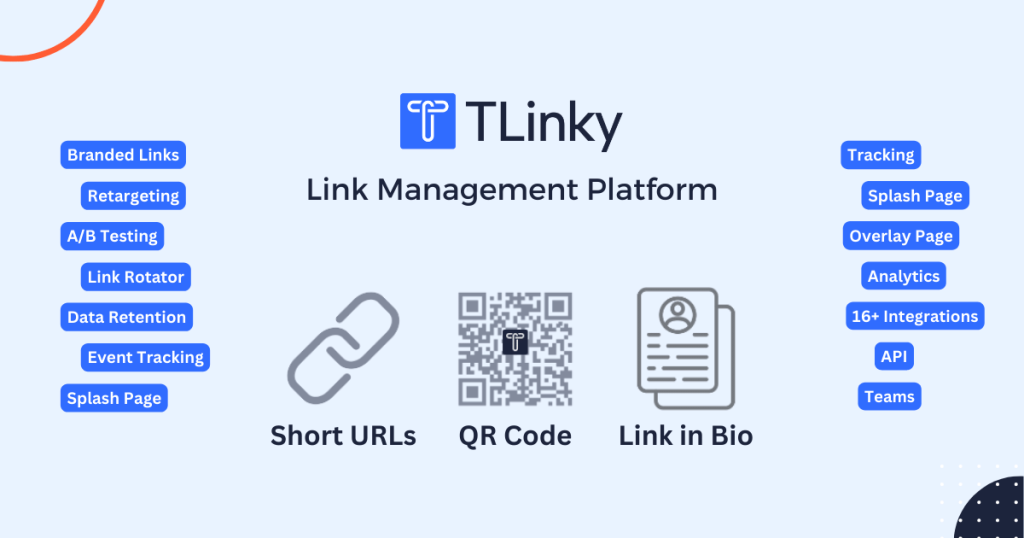 Managing your links has never been easier before. This cutting-edge software provides a seamless link management experience that allows you to make the most out of every link, ensuring they perform at their best.
Enhance your links with eye-catching CTA overlays, prompting your audience to take action.
Track every event and interaction with your branded short links to gain valuable insights into their performance. Take control of your links with our UTM builder, tracking pixels, and links expiration feature.
These tools provide you with the flexibility to fine-tune your links, measure their performance, and ensure their relevance over time.
Top Key Features of TLinky
URL Shortening: TLinky simplifies the process of shortening long and cumbersome URLs into concise and shareable links. This not only enhances the aesthetics of your links but also makes them more user-friendly.
QR Code Generation: Create interactive QR codes effortlessly with TLinky. Use them in various marketing materials, both online and offline, to connect your audience to your content or promotions.
Bio Profile/Link in Bio Builder: Create a centralized hub for your important links, products, or services, simplifying navigation and driving conversions for your social media audience.
Link Analytics: TLinky provides in-depth analytics, giving you valuable insights into how your audience interacts with your links. Track click-through rates, geographic data, and other metrics to refine your marketing strategies.
Branded Short Domains: Establish a stronger online presence by using branded short domains. TLinky allows you to customize your short links with your brand's name or keywords.
Link Retargeting: Boost your marketing efforts by retargeting users who have clicked on your links. TLinky lets you add retargeting pixels to your short links.
Scheduled Links: Plan and automate your link sharing with scheduled links. This feature allows you to specify when your links will be active, making it perfect for time-sensitive promotions.
Password Protection: Secure your links with password protection. This feature ensures that only authorized individuals can access the content behind your links.
Team Management: TLinky offers features team management, and access controls to facilitate teamwork.
More notable Features
Event Tracking
CTA Overlays
Branded Domain Names
UTM Builder
16+ Integrations
Branded Links
API
A/B Testing
Link Rotation
Pros:
Quick Link Management
Easy to use
A plethora of features
Cons
Reviews
4.9 out of 5 Stars Based on 50+ Capterra reviews.
Pricing
Free Plan – Always Free
Starter Plan – $9/ month and $90/year
Advanced Plan – $29/ month and $290/year
Business Plan – $89/ month and $699/year
Bitly – Link Management Software
Bitly offers a convenient solution for condensing lengthy URLs into shorter, more shareable links. This service is especially valuable for businesses aiming to enhance their brand presence, improve brand recall, and boost sales.
Branded links are favored as they convey trustworthiness and typically generate higher click-through rates.
Bitly's standout feature lies in its robust analytics capabilities, providing valuable insights into link performance. These insights encompass data on click locations down to the city and country level, tracking of device types, and comprehensive reporting on mobile deep links.
However, access to these advanced analytics is exclusive to paid subscription plans.
Additionally, Bitly charges for custom domains and custom URLs, while the free version offers shortened links with a combination of letters and numbers, replacing the original lengthy URL.
Top Key Features of Bitly
Access Controls/Permissions.
Activity Dashboard.
Campaign Management.
Custom Domains.
Customizable Branding.
Data Import/Export.

Pros
Efficient URL shortening.
Branding options for links.
Robust link analytics.
Customization features.
Security options.
Cons
Paid plans are required for advanced features.
Limited capabilities in the free version.
No monthly plan for the core plan.
Reviews
4.8 out of 5 Stars Based on 1200+ Capterra reviews.
Pricing Plan
Core Plan – $8/Month (Need to pay annually $96)
Growth Plan – $29/Month and $348/Yearly
Premium Plan – $300/Month and $2388/Yearly
Rebrandly – Link Management Solution
Rebrandly has evolved into the foremost platform for managing links, offering users the capacity to tailor and shorten URLs to align with their brand identity. This all-in-one link management solution proves invaluable to businesses of all sizes, facilitating the secure oversight and evaluation of link engagement, bolstering brand visibility, enhancing conversion rates, and granting access to comprehensive analytics.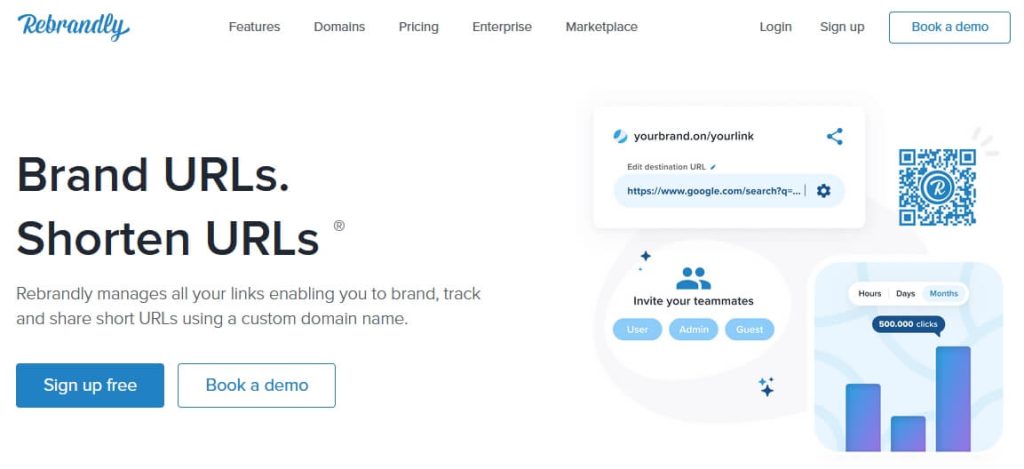 With Rebrandly, you can effortlessly generate and disseminate branded links right from your web browser's extension. These links are conveniently stored in your dashboard, where you can harness an exceptional suite of tools to track, analyze, and optimize performance, including link landing pages for social media campaigns.
Moreover, Rebrandly's link generator empowers you with extensive tag library management capabilities, ensuring efficient organization and tracking of your links.
This link management tool provides a brand monitoring and link management system, allowing you to identify valuable link tracking opportunities and handle bulk data effortlessly.
Top Key Features of Rebrandly
Custom Domain
Editable destination URL
Connect Subdomains
Click Analytics
UTM builder
API Access
Broken link management
Pros
Custom domain support for personalization.
Create visually appealing short links for social media and content sharing.
User-friendly installation and integration with your current domain.
Innovative branded URL.
Retargeting features.
help you with link visibility management and content marketing area.

Cons
Difficulty in locating specific terms within the platform.
Limited customization options for short links.
Lack of a Safari extension, with only a bookmarklet available for creating branded links.

Reviews
4.8 out of 5 Stars Based on 50+ Capterra reviews.
Pricing
Starter Plan – $29/month
Pro Plan – $69/month
Premium Plan – $499/month
Cuttly – Link Shortener
Cuttly short link tool – serves as a comprehensive Link Management Platform designed to fulfill all your link-related requirements. It stands as an advanced URL Shortener equipped with robust Link Analytics capabilities.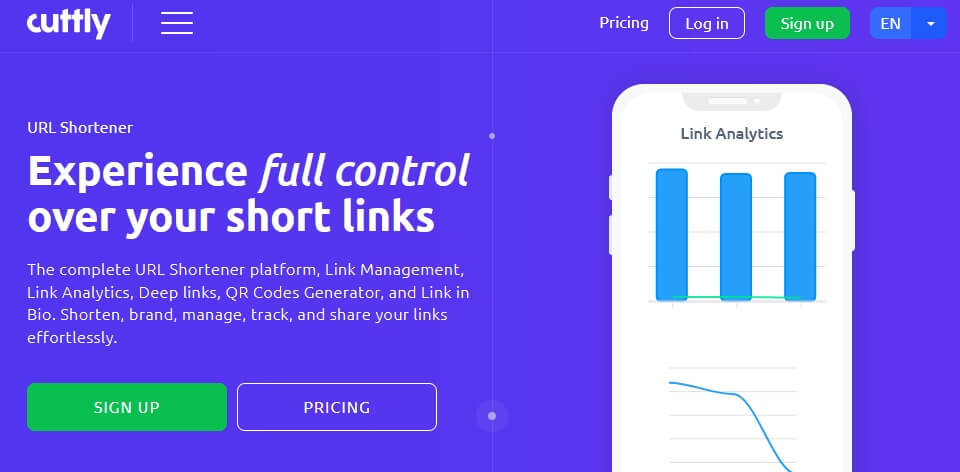 Cuttly provides solutions that empower you to effectively oversee your links, facilitating business growth while maintaining control over your links.
Additionally, Cuttly offers a platform for crafting personalized Link in Bio microsites and generating QR Codes, bridging the gap between offline and online solutions seamlessly.
Top Key Features of Cuttly
Branded short links
Link clicks tracking
Branded short links
Link Analytics
API link editing
QR Codes
Link in bio
UTM generator
Deep Links
Link retargeting
Pros
Offers a feature-rich URL shortening service.
Provides in-depth analytics to track link performance.
Enables efficient management of all your links.
Supports business growth by streamlining link-related operations.
Allows for the creation of customized Link in Bio pages.
Provides QR code generation for offline-online integration.

Cons
Feedback: Potential lack of user reviews or testimonials for evaluation.
Some users may find it challenging to navigate initially.
Extensive features may be overwhelming for basic users.

Reviews
4.8 out of 5 Stars Based on 50+ Trustpilot reviews.
Pricing
$25.00 / month – Up to 5 users
$99.00 / month – Up to 10 users
$149.00 / month – Up to 99 users
TinyURL – Link Shortener
TinyURL strives to provide comprehensive link management services, aiming to eliminate lengthy URLs from your email marketing, social media, and customer communications. It stands out among link management platforms by offering unlimited link tracking on all paid plans.
TinyURL boasts a user-friendly and hassle-free setup process. Additionally, it excels in automation, automating various functions, including the convenient copying of shortened URLs.
Top Key Features of TinyURL
Shortened URLs
Custom Alias
Branded Domain
Subdomain Supported
Device Targeting
API
Pros
Makes it easy to handle and share URLs.
Offers tracking for an unlimited number of links on paid plans.
Provides a straightforward and easy-to-use setup process.
Automates tasks like copying shortened URLs for user convenience.
Aims to eliminate lengthy URLs from marketing and communications.
Allows for customizing shortened URLs.

Cons
Lacks some advanced features found in other link management tools.
The free plan may have restrictions for heavy users.
Users may have concerns about data privacy with URL shortening services.
Limited link analytics compared to more robust analytics platforms.

Reviews
4.5 out of 5 Stars Based on 20+ Capterra reviews.
Pricing
Free
Pro Plan – $9.99/Month
Bulk Plan – $99/Month
LinkTree – Link in Bio Builder
Linktree is a popular Link in Bio tool that gained prominence primarily on Instagram. This is due to Instagram's limitations on sharing long web links, as they are only permitted in Stories and the character-limited 'bio' section of user profiles. Consequently, users needed an alternative method to guide their followers to their websites or other social profiles.
Linktree essentially generates a straightforward landing page where you can display multiple links. You can then place the link to this landing page in your Instagram bio to direct traffic to various sections of your website or social channels.
Top Key Features of LinkTree
Templates Library
Marketplace
Customize Link
Audience Analytics
Email Collection
Facebook Conversion API
Zapier Integration
Pros
User-friendly interface with ease of use.
Basic analytics are available for free plan users.
Exceptional customer service and a comprehensive help center.
Extensive customization options with visually appealing design.
Accessible through mobile apps on both iOS and Android platforms.

Cons
Customization options are lacking for customers of the free plan.
No feature for custom domains.
accessible with applications for iOS and Android.
Limited integrations for users of the free plan
Comes with link management free features
Reviews
4.4 out of 5 Stars Based on 80+ Capterra reviews.
Pricing
Free
Starter – 5$/month
Pro – 9$/month
Premium – 24$/month
JotUrl – Custom URL Shortener
JotURL equips you with all the essential tools and link management website that capabilities you need for a highly efficient marketing strategy. This custom URL shortener platform simplifies the process of measuring cross-channel touchpoints, ensuring your campaigns reach their full potential.
It offers automated link checking, allowing you to monitor campaign performance in real time. Identify your best-performing links and promptly eliminate those that aren't delivering the desired results.
Additionally, JotURL provides the convenience of creating custom campaigns directly from the dashboard, eliminating the need to navigate elsewhere.
Top Key Features of JotUrl
Branded links
Analytics
Remarketing/retargeting pixels IDs
Branded QR codes
Custom domains
Custom CSS for your CTAs
CDN traffic
UTM Builder
Advanced link content monitor
Pros
Ease of Use
Varied Feature Set
Improved Lead Generation
Personalized Call to Action

Cons
Overwhelming and challenging to use
Confusing interface
Overwhelming number of features

Reviews
4.9 out of 5 Stars Based on 20+ Capterra reviews.
Pricing:
Growth: €9/month or €7/month (annual billing)
Pro: €69/month or €55/month (annual billing)
Business: €169/month or €135/month (annual billing)
Growth XL: €29/month or €23/month (annual billing)
BL.INK – Link Management Tool
Go beyond branding to track every interaction, safeguard your data, and instill confidence in every click. Link Management is more than link shortening, and BL.INK is just the beginning.
BL.INK offers a comprehensive environment to manage every touchpoint, ensure accuracy, and provide analytics for measuring performance. Trust BL.INK protects your shared links, enhances your social impact, and provides control and flexibility.
Top Key Features of BL.INK
Branded Links
Link Tags
Custom Keywords
Variable Passing
301 Redirects
Dynamic Links
UTM Campaign Builder
QR Code Support
Whitelisting/Blacklisting
Zapier, Pabbly Connect, Zoho Flow Integrations
Pros:
Shortens links that can be shared instantly.
Creates excellent Analytics for detailed study.
Helps to create links for QR codes, messages, websites, PDFs, and so on.
Custom professional domains and retargeting are some unique features.
Cons:
Pricing is an issue if you upgrade to a Pro OR Business plan.
Reviews
4.6 out of 5 Stars Based on 300+ G2 reviews.
Pricing
Expert – $48/mo
SMB – $99/mo
Team – $299/mo
Business – $599/mo
Frequently Asked Questions
What is branded link management?
Branded link management is the practice of customizing and shortening URLs to make them more visually appealing, memorable, and reflective of a brand or organization. It involves using tools and services to create shortened, branded links that enhance recognition and trust.
Which app can I use to create a link?
There are several apps and online services available for creating links, depending on your specific needs. Some popular options include Bitly, TLinky, Rebrandly, and TinyURL. Each of these tools offers link shortening and customization features.
Which link shortener is best?
The choice of the best link shortener depends on your requirements. Some well-regarded link shortening services include TLinky, Rebrandly, and TinyURL. Consider factors like customization options, analytics, and ease of use when selecting the one that suits your needs.
How do I shorten a URL link?
To shorten a long URL link, you can use an online link shortening service like Bitly or TLinky. Simply paste your long URL into the provided field, and the service will generate a shortened link for you. You can then customize the link if desired.
Is a free URL shortener safe?
Generally, free URL shorteners are safe to use. However, it's important to be cautious about the source and reputation of the service you choose. Some free services may have limitations on link customization and analytics compared to paid options. Ensure that the URL shortener you select meets your security and branding needs.
What software can integrate with Link Management Tools?
Link Management Tools often offer integrations with various software applications to enhance their functionality. The specific integrations available may vary by tool, but common integrations include social media platforms like Facebook Pixel and Twitter Pixlel, Google Tag Manager, email marketing software such as Mailchimp, and analytics tools like Google Analytics. Integrations allow users to seamlessly incorporate link management into their existing workflows and marketing campaigns.
Final Thoughts
As we conclude our exploration of the 8 best link management tools in 2023, it's evident that each tool offers a unique blend of features and functionalities to cater to diverse user needs. Whether you're seeking branding and customization, advanced analytics, simplicity and efficiency, or a no-frills approach, there's a tool that perfectly aligns with your requirements.
When selecting the right link management tool for your business or personal needs, it's crucial to consider factors such as branding requirements, analytics needs, desired level of customization, and ease of use. By carefully evaluating these factors, you can make an informed decision that empowers you to effectively manage your links and enhance your online presence.