Social media platforms have become essential tools for self-expression and marketing. TikTok, the popular short-form video app, is no exception. With millions of users worldwide, it provides an excellent opportunity to showcase your creativity and promote your brand or content.
One effective way to increase your visibility and engagement on TikTok is by adding a link to your bio. In this article, we'll guide you through the process of adding a link to your TikTok bio, helping you make the most out of this platform.
Supercharge Your Social Media Presence with TLinky's Link in Bio Builder!
Transform your social media bio into a dynamic hub of information. Create a captivating Link in Bio page that engages your audience and drives results.
Why Add a Link to Your TikTok Bio?
Before we dive into the technical steps, it's crucial to understand why adding a link to your TikTok bio is beneficial. This simple feature can help you achieve various goals:
Promotion: Direct your followers to your website, YouTube channel, online store, or any other platform where you want to boost traffic.
Enhanced Engagement: Encourage users to explore your content beyond TikTok.
Monetization: If you're an influencer, you can link to sponsored products or affiliate marketing platforms.
Boost Credibility: A link can give your profile a more professional look, especially if you have a business or personal brand.
Requirements for Adding a Link in your TikTok bio
To add a link to your TikTok profile, you'll need:
An active TikTok account
The TikTok app installed on your device
The link you want to add (ensure it's relevant to your TikTok content)
Steps to How to Add a Link to TikTok Bio
Step 1: Open the TikTok App
Start by launching the TikTok app on your smartphone or tablet. If you haven't already, log in to your account.
Step 2: Access Your Profile
Tap on your profile icon at the bottom right corner of the screen. This will take you to your profile page.
Step 3: Edit Profile
On your profile page, you'll see an "Edit Profile" button. Tap on it to access the profile editing options.
Step 4: Add Your Link
Scroll down until you find the Website field. Here, you can add the link you want to include in your bio. Make sure to double-check the link's accuracy.
Save your changes, and your link will now appear in your TikTok bio.
Common Issues and Troubleshooting
Issue 1: Link Not Working
If your link isn't working, ensure that it's correctly formatted (beginning with "http://" or "https://") and leads to a valid website. Test the link on a web browser to confirm it's working.
Issue 2: Link Verification
TikTok may occasionally review and verify the links added to bios. Be patient if your link doesn't immediately appear. It should be visible within a short time.
Issue 3: Link Shortening
While TikTok allows longer links, it's advisable to use link shortening services like TLinky for cleaner and more visually appealing bios.
Best Practices for Bio Links
Keep your link relevant to your TikTok content.
Regularly update your bio link to promote new content or products.
Use engaging language to encourage users to click on the link.
Monitor the performance of your bio link using analytics features.
Utilizing TikTok for Promotion
TikTok offers various creative features like duets, challenges, and filters that can enhance your promotional efforts. Experiment with these features to engage your audience further.
Measuring Success
Track the performance of your bio link by using tools like Google Analytics, TLinky, or TikTok's built-in analytics. This data can help you refine your marketing strategy.
Security and Privacy Concerns
Be cautious when sharing links, especially if they require personal information. Ensure that your audience's privacy is protected.
TikTok Bio Link Ideas
Here are some ideas for bio links: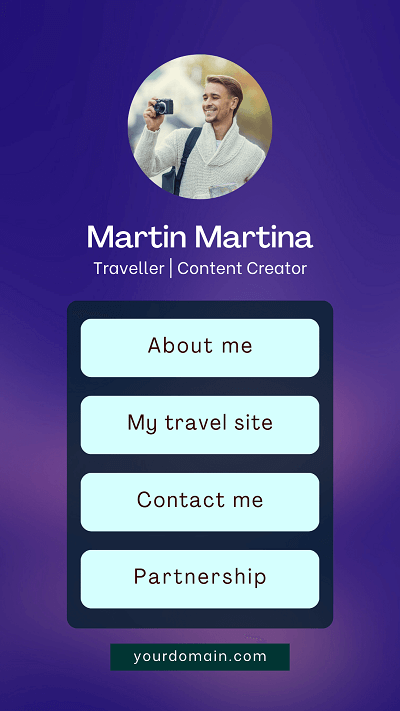 Your blog or website
A bio page
A YouTube channel
An online store
Social media profiles
Landing pages for promotions
Tips for Maximizing Click-Through Rates
Craft compelling captions that create curiosity.
Use eye-catching profile and video thumbnails.
Engage with your audience through comments and messages.
Linking to Multiple Destinations
Consider using link management tools to switch between different links in your bio, allowing you to promote various content simultaneously.
Alternatives to Bio Links
Remember that TikTok offers other ways to promote content, such as adding links in video descriptions or comments.
Stay Updated with TikTok's Features
TikTok frequently updates its features. Stay informed about new opportunities that can enhance your profile and engagement.
Engaging Your Audience
Respond to comments, ask questions, and create a community around your content. Engaged followers are more likely to click on your bio link.
Common FAQs
Can I change my TikTok bio link frequently?
Yes, you can change your bio link as often as needed to promote different content or offers.
Are there character limits for TikTok bio links?
TikTok does not have a strict character limit for bio links, but it's best to keep them concise and user-friendly.
Can I track the performance of my TikTok bio link?
Yes, you can use analytics tools to track click-through rates and monitor the effectiveness of your bio link.
Is it necessary to use link shortening services for my bio link?
What should I do if my bio link isn't working?
Double-check the link's accuracy and format (http:// or https://). If it still doesn't work, TikTok may be verifying the link; wait a while for it to become active.
Conclusion
Adding a link to your TikTok bio can significantly impact your online presence. Whether you're promoting your brand or content, following the steps outlined in this guide will help you make the most of this feature. Stay creative, engage with your audience, and watch your TikTok presence soar.